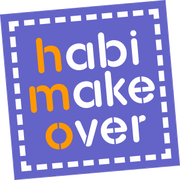 Habi Makeover
, also known as
HMO
, is an
app
developed by Neil Wick. It runs on the Windows, Mac OSX, and Linux
operating systems
using the
Adobe AIR
runtime environment. It allows the redecorating of downloaded
SPP Lite Habitat
files and the creation of a local
inventory
of
items
on the player's own computer.
Functions
Edit
For a list of the functions and how to access them, see Parts of the Habi Makeover window.
Current version
Edit
The current version is version 1.07 and it can be downloaded from the official download page at http://www.habitmakeover.com/downloads/ .
In version 1.03, everything in a habitat could be changed except for Movable Items, which could only be placed in the centre of the habitat.
Version history of the app
Edit
Version 1.03 was released for limited testing on November 12, 2011 and officially announced on November 27, 2011.
Version 1.02.01 was released October 29, 2011, replacing version 1.02 which was released on October 27 with a small bug.
Version 1.01.01 was released October 15, 2011.
A preliminary version, called Habi Makeover List, was released on October 5, 2011, but all of its functionality has been incorporated into the later versions which go under the name Habi Makeover Basic.